History of Hawaiian Aloha Shirts from Aloha Shirt Shop
Because our site is very frequently used by journalists from broadcast and print media for research information on the history of the Hawaiian shirt and culture, we present two of the best aricles wriiten on the subject.
The Aloha Shirt
by Veronica S. Schweitzer

Not even tucked in, blazing and bold, here's the aloha shirt!
The missionaries might have denounced extravagance and nakedness, the craving for vivid colors, tropical textures, and sensual shapes couldn't be suppressed. Within two centuries a modest workman's shirt grew into the trademark wear of Hawaii.
But the history of this shirt reflects the growing pains of a nation and the true Hawaiian aloha shirt has become increasingly hard to find.
In the late 1920's and early 1930's tourists, always looking for exotic souvenirs, fell for a fad of the young islanders, unusual prints. Artists and tailors spotted a serious business. The name "aloha shirt", registered in 1936, soon labeled a flourishing industry.

Paintings of famous artists were transferred to the fabric of choice, rayon, silkier than silk and inexpensive. Designs competed in intricacy. Border shirts, picture shirts, patterned shirts. How many ways to say Hawaii? Labels themselves became works of art, reflecting inspiration and wild dreams of success.
After the darkness of the second World War, colorful, exotic prints were more than ever what visitors wanted. Add to this the attention Hawaii received in the 1950's when it competed with Alaska to become the 49th state, as well as the intrigue with Hollywood. Aloha shirts became a craze.

Elvis Presley, John Wayne, Frank Sinatra, all going Hawaiian. Montgomery Clift, dead in a ditch in "From Here to Eternity," in Hawaiian print. Immortal, from now on. Endorsements by world-famous gold-medal swimmer and master surfer Duke Kahanamoku. Photographs of presidents.
Kamehameha Garment Company, one of the largest pioneer manufacturers, shipped 35 tons of garments to the mainland in 1960. "Made in Hawaii" sells!
In Hawaii, during those crazy years, opinions varied. All good and well in leisure time, but what about business? Many companies fought the breezy aloha shirt.
"Spiritually destructive," said a Japanese boss in 1955. "Truth is" writes Honolulu Magazine, in 1967, "almost no man past 30 really looks good in an aloha shirt."
Questionable as this might be, with the large demand on the mainland came the need for more effective production. First factories took over. Then labor and designers overseas. On the mainland, imitation shirts appeared. Designs lost their artistic quality. Matching his and hers, no inspiration. Demand lowered, prices dropped. The shirt became "tacky".

Only one company in the whole state of Hawaii decided to stay true to the original Hawaiian shirt. Reyn Spooner, created in 1956, is the only aloha shirt line designed and produced right here in Hawaii, its prints still pulsating with local strength.
Otherwise weakened, the Hawaiian shirt lost uniqueness. Yet the greatest loss is that no one thought of keeping track. Numerous designs have vanished in the cotton clouds of history. Original shirts with original labels have become collectors items worth hundreds and even thousands of dollars.
The true Hawaiian shirt reads like a painting of paradise. The fabric is a canvas for the rich images of the islands. And aloha shirts, true or not, are here to stay. Still the greatest souvenir. They will forever mirror what Hawaii is about. The challenge is now to find the real one, the one that shows aloha.
This article is reprinted with permission and grateful acknowledgment to Les Drent of Coffee Times. Want great, fresh roasted to order Kona coffee? Visit Coffee Times at: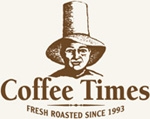 The Shirt that says Hawai'i'
The story behind the colorful cultural icon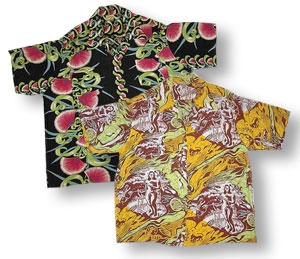 Hawai'i' - awash in romance, marbled by different cultures, saturated with beauty, and compelling in contrasts - gave birth, over 50 years ago, to the renowned Aloha shirt. There is today probably no better-known garment in the world that captures a land's 'spirit of place.'
For half a century, the Aloha shirt has been Hawai'i's most enduring and visible greeter and ambassador - like the lei, the Aloha shirt is worn as a statement of one's love for, and connection to, a most special place.
These words from historian and waterman Tommy Holmes, from the forward of our book The Aloha Shirt, capture the true history of this marvelous cultural icon. The Aloha shirt, so evocative of the spirit of its home, is full of mystery and allure of Hawai'i' and the stories of those who have lived here.
Different tales have circulated for decades about the origins of the Aloha shirt. Did it spring forth late one night from the hand-operated sewing machine of a Japanese tailor? Was it inspired by the tail-out shirts of the Philippines, elegant kimono cloth from Japan, or vivid floral prints for Tahiti?
There are well-documented stores from the pre-World War II years of teenagers buying wonderful, finely printed Kabe crepe material, imported from Japan, in the dry-goods stores of downtown Honolulu. These young men had their mothers sew beautiful shirts from the fabric. That tradition of beautifully sewn printed shirts spread from the Asian dry-goods merchants and home-sewers to the tailors and dress-makers of Hawai'i', creating a new style of colorful clothing.
This all took place in the late 1920s and early 1930s, at the same time that Hawai'i' was emerging as a paradise for tourists with the building of the Royal Hawaiian Hotel in Honolulu and the christening of the trio of magnificent cruise ships by Matson navigation, opening this majestic string of island to the world. Boatloads of visitors were charmed by hula dancers swaying to the rhythm of a lone 'ukulele, enchanted by Waikiki Beach boys riding the waves on their great wooden surfboards. For those who came from afar, nothing painted a more vivid picture of Hawai'i' than these bold shirts with their vibrant island imagery.
The early Aloha shirts most often depicted ancient symbolic imagery of the Orient. Pine and plum tree prints represented long life, good fortune, and success. The images of a tiger symbolized strength and courage. Prints of bamboo denoted strength and flexibility. Early designs were also graced with traditional images of Mount Fuji, ornate temples, or peaceful landscapes.
It was not long before local artist began to design textiles that captivated the dreamy, romantic lifestyle of their island home. Early prints that were intended for home interiors soon made their way into clothing. Elsie Das designed beautiful botanical prints of native plants hibiscus, breadfruit, night-blooming cereus as well as a humorous pattern incorporating hula girls. Ethel Chun Lum designed shirts sold by her brother Ellery Chun at his store, King-Smith Clothiers. Ellery Chun was the first person to officially register the name "Aloha Shirt." Ether produced designs based on her first cruise to the mainland U.S., including flying fish seen from the deck of a Matson liner.
Garment manufacturers including Kamehameha and Branfleet (later know as Kahala), which initially produced Aloha shirts with Asian motifs in their humble factories in the mid-1930s, began to commission designs from local artists. Soon, visitors and locals alike were donning these wearable postcards awash with coconut trees, surfers, outrigger canoes, hula girls, and endless varieties of colorful tropical flowers, birds, and fish.
"Aloha shirts put Hawai'i' on the map," says renowned fabric designer John "King Keoni" Meigs. "The first thing people did when they arrived was to make a beeline for a department store to buy one."
Meigs was one of many flamboyant designers in the Gold Age of Aloha shirts, which ran from the 1930's to the 1950's. for inspiration, they shared the sunsets, beaches, flowers, and rainforests of Hawai'i'. They and their visionary colleagues - manufactures, artists, and retailers - formed the community that created this memorable art form.
Celebrities of the time - such as John Barrymore, Bing Crosby, and Elvis Presley - were widely photographed wearing the shirts. Duke Kahamamoku, Hawai'i's most beloved surfer and Olympic swimming champion, was the earliest and greatest promoter of the Aloha shirt. Duke even had his own line of shirts, which are widely coveted by collectors today.
Whether you fancy a collectible from the 1930's or a modern style of today, the Aloha shirt remains a symbol of the casual, carefree, and graceful Hawaiian lifestyle.
Reprinted from the Aloha Shirt Book Dale Hope and Gregory Tozian are the authors of The Aloha Shirt Book. Dale Hope is also president of Kahala Sportswear.
---