Hawaii is a beautiful environment, created by volcanic activity over millions of years. Some craters and summits are accessible by car, but the Ka'au crater, near the capital Honolulu, is very special, as you'll need to hike all the way up there. It's a long hike that takes about six to seven hours to complete in total (including both ascent and descent), but when you get up to the top, you'll see it's worth it. If this seems like something you'll want to add on to your Hawaiian itinerary, here's a guide that can help you understand the Ka'au crater hike a little better.
What you'll need:
A good pair of hiking shoes
A pair of sunglasses
Lots of water (you'll need more than you think you do)
Some snacks to nibble on
Sunscreen and some bug spray
An absorbent towel
Your camera (of course)
How to get there:
The trail begins at the end of Wai'oma'o Street, on the side of the upper Palolo Valley, with Maunalani Heights. The best way to find the start is to type in 'Palolo Zen Center' in your GPS. Parking is limited so get to the trailhead in the morning, or take a bus or a taxi to get there. Once you get there, you'll see a row of mailboxes on your left. Follow them till you see a signboard that reads "Ka'au Crater Trail is an unmaintained trail, enter at your own risk!" This is where your trail begins.
More Directions:
If you are coming from Honolulu, you should head towards the east direction. You should see posts about a Buddist Monk Temple, follow that road until you hit Waiomao Road. Then you will continue on this private lane until it ends near a little parking lot area. You can park here just make sure you're not parking in someone private space or park somewhere that prevents people from passing on the road (that's a big no-no here). 
How the trail runs:
Once you get past the signboard, you'll descend into the foliage past some rocks and roots. You'll then see a well-worn path, which is the trail you want to follow. A few steps into the hike, you'll arrive at a junction from which you can pick one of the two paths to get to the top.
The path on the left – This is the easier and safer route. However, the downside is that you won't hike past any of the three waterfalls that lie on the other route.
The path on the right – This trail is for the more adventurous at heart, as it can get messy, tough, and slippery. But if you pick this route, you'll pass by three scenic waterfalls.
If you're in doubt about the way, the trail has pink markers at various junctions to help you along. Just look for these, and you'll find the hike a lot more manageable.
More about the trail:
Once you're on the trail, you will immediately see the jungle not far off into the distance. The trail is a single track trail meaning there is one way to begin the trail. Eventually you will find yourself down the path (if you follow it) and you will see a nice beautiful stream. Follow that stream until you hit what we called a large pipe running right through the jungle. This pipe will be your guiding light. Follow it for about a mile and half farther (you will be going up elevation and back down in elevation during this part. Note: there are a couple random clearing where you can see the sky but for the most part, you are being covered by the canopy. Typically, after about an hour or so on the trail, you will see the great big beautiful water falls. Chances are you want to stay here and bit. We hear a lot of people take lunches here if you brought some. Note that if you want to see all 3 big waterfalls you have to hike past the first waterfall. It's a much longer hike if you want to see all 3 waterfalls but it is highly recommend for those who are more apt to hiking! 
Note:
This is not a hike to bring your kids or someone who is not accustomed to hiking and physical exercise. The Ka'au Crater Loop Hike is breathtakingly goregous and it definetly worth the hike but we must advise that this was a rather dangerous hike. It is a "unmaintained trail" which basically means that the trail is not kept up and there is a higher danger and risk factor when hiking this trail. You don't have to be a hiking pro but you definetly have to be somewhat athletic. 
Facts:
The sign entrance says "Ka'au Crater is an unmaintained trail, continue at your own risk".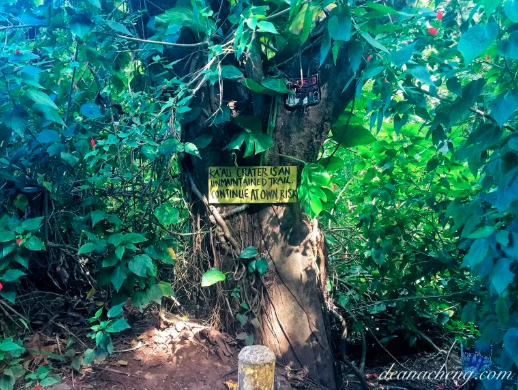 The whole hike is about 5-7 hours long 
Follow the signposts (see the pink markers)
You must follow the pipe for the first 1hr of the hike
Don't sit on the pipe to rest, your butt will get dirty
You have to climb some parts of the hike
There are ropes to help you climb those parts
You get to see beatiful water falls
Waterfalls:
This is a picture of the first waterfall you encounter on the trail. It looks like there was light rain during this time but the picture is goregous!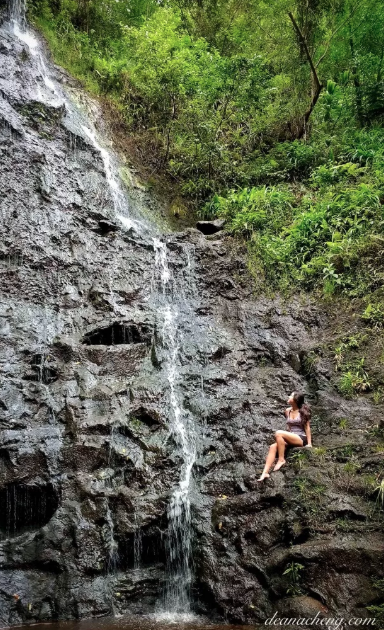 What you'll see at the top:
Once you make it past the three waterfalls, the various slippery slopes, and the many haphazard boulders along the hike up, the view you're treated to will leave you in awe. Up there at the summit, you're around 2020 feet above sea level, and you enjoy an unobstructed, 360-degree view of the island. You can see the Mokes, Olomana, Waimanalo, Kailua, Chinaman's Hat, the Sandbar, and so much more.
How to head back down:
You can turn around and go back the way you came, or you could walk around the top, complete the circle, and head back down through a different route, making it a loop. Make sure you're always on a clearly-marked trail.
One tip for hikers is to steer clear after it's rained, because the road gets too slippery to travel down. And, as always, make sure that when you go out for any hike of any length that you have a clear plan, a map, and enough food and water for the whole hike, both up and down. If you find you're struggling, don't be afraid to turn around: it's better to be safe. Have a great hike!
---