Go Barefoot Merry Fishmas! - Light Blue
Enlarge
Go Barefoot Merry Fishmas!
Stock #: AGBC-02
Fabric: Cotton
Color: Light Blue
Fits: Larger Than Expected
Price: $69.00
What better way to celebrate the holidays than with one of our fabulous Christmas shirts?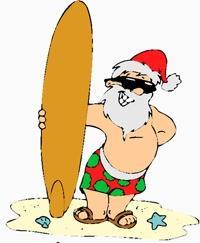 Every year we believe our designers could not possibly top their work of the previous year. Once again we have been proven wrong. This collection is our best, most diverse ever.
Uniquely Hawaiian designs that are sure to brighten any holiday event. From the first Christmas party of the season to the last night the lights are aglow, we have the perfect shirt to make a perfect holiday!
More from Go Barefoot
About Go Barefoot
In 1946, World War II had come to a close, and Isamu Takabuki of Hawaii formed Iolani Sportswear and began manufacturing Hawaiian "Aloha" garments. He also purchased the Aloha Boeki screenprinting company in Kyoto, Japan to print his fabric with designs by Hawaiian artists.
In 1957, his friend, Clarence Hara (founder of Go Barefoot) and Isamu formed a new company and incorporated Fuji Import Company, Inc. They wholesaled imported Hawaiian shirts and robes from Japan made from silk, rayon, and cottons. Today these garments are highly prized collectors items.
Clarence also recognized the need for a new product label; a "handle" for his ultimate customer to grasp. On one of his trips to Hawaii to develop designs for his Hawaiian shirts, Clarence met with his old friend Sterling Mossman, a well known nightclub entertainer at Waikiki's Queen's Surf and the famous Barefoot Bar. From his friend, he received legal approval to use the "Barefoot" which was the decor of the Barefoot Bar, with footprints on the walls and steps leading to the Bar and entertainment. The new label then became "Go Barefoot in Paradise" (also the name of Sterling's Waikiki show) and later was shortened to "Go Barefoot". Note: The footprint logo was sold to Hang Ten in the early 1970's.
For the past 57 years, Mr. Hawaii, Inc. (Go Barefoot) has been designing and producing the finest quality Hawaiian shirts. These garments reflect the beauty and aloha that is found in only one place on our planet -The islands of Hawaii.
Browse our Great Brands