The Aloha Shirt: Spirit Of The Islands Book - By Dale Hope - Hardcover
The Aloha Shirt: Spirit Of The Islands Book - By Dale Hope - Hardcover
Stock #: ZZW2
Fabric: The Definitive Source And History Of The Hawaiian Aloha Shirt - All new edition!
Color:
Please Note: Note: Due to size and weight limitations, the Aloha Shirt Book is not available for gift boxing, domestic next or 2 day express shipping or any international orders.
Price: $60.00
"The Aloha Shirt" book provides a stunning pictorial history of the evolution of the Hawaiian shirt as an icon of relaxation, casual dress, and the allure of the islands. Includes a gallery of shirts which shows the best collection ever assembled of rare and valuable shirts. Hardcover - 400 color photos.

Dale Hope is considered the foremost authority on the history of the Hawaiian Aloha shirt. His book "The Aloha Shirt" has been the staple go to authority on the history of our industry. Dale was recently commissioned to do an exclusive line of shirts for "Lucky Brand" As part of their marketing strategy and to give some insight on the man that has been such an inspiration, we provide the following interview conducted by Lucky Brand in 2012.
What do you hold most dear about being born and raised in the islands? To me it's our casual lifestyle that is so special and so endearing. We went to school barefoot until 6th grade and then we had to wear shoes. It is such an interesting melting pot of cultures and sensibilities here. And of course our weather and climate. The ocean is a huge draw for me, it is such a special thing to be able to go to the ocean and swim, surf, paddle, fish, etc. It renews you and gives you a skip in your step that makes you feel so good. When I used to own my company, I felt as if anything they threw at me throughout the day, I was able to handle, because I had been out in the a.m. previously spending special time on the water.

Growing up in the Hawaii garment industry – was it always a desire to go into the family business? No. It was just never that appealing to me. I really did grow up in my mom and dad's factory and it didn't excite me due to the constant familiarity. I played in boxes in lieu of nannies and went on all my dad's deliveries from a young age. By the time I was a teenager, I was working in the factory. I didn't really identify with the business because although my dad made shirts, they were more for ladies – misses. I didn't want to sell to blue haired ladies who didn't know if they needed this product or not. I was interested in men's shirts and my dad was not. By the time he passed away at 60, I had to take a crash course in how to take over as a very young and fairly uneducated businessman. But, because of the few guys I knew that were making shirts and developing art, I was inspired to join in on the new design sense that was appealing to us. Had it not been for those guys, it probably never would have been interesting to me. They exemplified the fact that it could be done differently, and aided me in carving a path that allowed me to execute prints in a different fashion.

Do you find it to be a welcome challenge when finding new ways to elevate a classic? Yes, you're only as good as your last print. I've always wanted to be a really good shirt maker. So, I've spent my career seeking out interesting stories and extremely talented artists with the hope that our work will find it's way into people's hearts and touch them on an emotional level.

The history of the Aloha shirt very much depicts the story of Hawaii during each era- how does it feel knowing you've made such an impact? It's very rewarding to be driving around the island and see people of every generation wearing shirts that I steered the design of. (We actually drove by a young man riding his bicycle who was wearing one of Dale's shirts during our tour.) In addition, when idols and heroes of mine have worn my shirts…that's really special. I am so inspired by the stories that go into developing these prints, so I'm really delighted when another person connects to the concept as well.

Looking back in time, what era of the Aloha shirt do you find most captivating? Probably the 50's and late late 40's were the most amazing. Some of the shirts from back then are now selling for $10K. The fabric was actually a cheap lingerie rayon, but it was very drapy and silky; soft to the touch and very luxurious to wear. The colorations were also insane with the lime greens and purples of the day that weren't too hot. The artists back then weren't watching TV for inspiration. They were drawing on the nature around us. Such authentic interpretations and the artists were memorializing everything that was special about the Island. They did it without a computer or over stimulation. They captured the innocence, charm and naiveté of the environment and the time as well. The ukulele, getting back rubs on a surfboard off the beach of Waikiki, Hawaiian music and luaus were all reflected within the art.That's the heroic period for me – the Golden Era.

Why Lucky Brand? What made it the perfect collaboration? I've always been a fan of Lucky Brand. My entire family is actually. My wife, daughter and I all love and wear Lucky denim. It's such a great collaboration because Lucky can really elevate the essence and idea of the Hawaiian shirt. Prints are also so on-trend right now, and I don't foresee that changing anytime in the near future. So, it's such a great time to introduce these Hawaiian prints for men and especially for women in dresses, pants, shorts, tops, etc. in a way that they've never been done before.

In one word, describe Hawaii? Aloha!
More from Tori Richard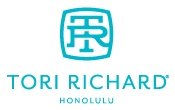 About Tori Richard
The Tori Richard Ltd resort wear company was founded in 1956 by Mortimer "Mort" Feldman and his future wife Janice Moody. The company fact that surprises most people is that there is no such person as Tori Richard. The company was named after Janice's daughter Victoria (Tori) and Mort's son Richard. The company is and has been for some time under the guidance of another of Mort's sons, Josh Feldman.
In the company's early years, Tori Richard specialized in women's resort wear but in 1969 Liberty House requested some men's shirts made from Tori Richard's signature prints. Those shirts were a huge success and by the 1980's their menswear line was selling more then their women's wear line.
Known for its original prints and incorporation of various textiles and fabrics, Tori Richard prides itself on its ability to introduce and re-introduce powerful visual statements in its design. Tori Richard has digitized almost 14,000 textile prints. Feldman believes it is almost every print Tori Richard has created in it's 56 years, and says they are great resources to which designers and artists can refer. Aside from recycling and integrating these timeless prints into new designs, Tori Richard looks at trends and cultures from around the world for inspiration. Inspirations can come from Mexico to Borneo to Thailand, says Feldman. Currently there are eight in-house Tori Richard artists who concentrate solely on creating prints. True to their roots, but always innovative, Tori Richard produces some of the finest "Aloha" wear you can purchase.
Browse our Great Brands